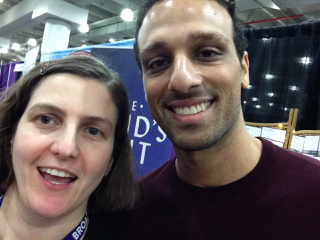 First I ramble about my own experiences at Broadwaycon, including the opportunity to meet Elsie alum Ari'el Stachel (pictured.) Then there's a snippet of a sing-along, a whole bunch of interviews, and finally some audio from the panels for The Band's Visit and Ahrens and Flaherty (including singing from Christy Altomare and Alex Newell.)
Special thanks to all my guests:
Ethan and Lyra
Tim
Alexis
Sarah
Gigi
Mardie
Samantha
Abbie
Thanks to Ann Arbor Tees and Sparkle! Designs for giveaway items. 
Check out my Zazzle Store to keep all those giveaways free!